FDNY Violations Removed By Master Fire Systems NYC
First of all, what is an FDNY Notice of Violation?
At any time an inspector from the New York City Fire Department can take out his or her badge and ask you to show them around your establishment, and/or ask for up to date paper work. And you better be able to comply.
FDNY Notices of Violation (which sometimes may say "FDNY Summons" at the top of the yellow violation copy) are infractions issued by the New York City Fire Department. There is an Environmental Control Board (ECB) hearing, and possibly a fine. FDNY-ECB violations when issued will include any noted infractions (known as Violating Conditions, or specific FDNY rules), a be accompanied by a future hearing date. Generally speaking, the respondent has 30 days to effect a cure.
FDNY Notices of Violation have two separate elements; the fine and hearing (via the ECB) and compliance (via the FDNY). Both components must be satisfied (or in some instances waived), in order for the violation to be entirely closed.
Master Fire Systems will file an FDNY-specific Certificate of Correction that will satisfy the Fire Department's compliance requirement. Such a certificate must be filed directly with the FDNY. In this way, you may be able to avoid a hearing by submitting a Certificate of Correction before the cure date.
[/vc_column_text][/vc_column]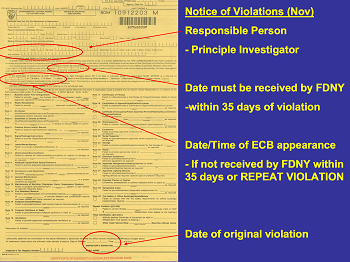 [/vc_row]